A Piece of History at the Cardinals Baseball Hall of Fame
When we were contacted about this project, we jumped at the opportunity to participate. How often do you get to be a part of baseball history?! Ballpark Village at Busch Stadium, which includes several restaurants and stores as well as event venues, would also include a brand new facility for the Baseball Museum & Hall of Fame which would feature a tribute to the 1966-2005 era Busch Stadium. We were asked to create the plugs for the fiberglass display that would be seen for many years to come. We created this project in conjunction with Craftsmen Industries and SG Manufacturing.
Here are some photos of the process followed by the finished display at Ballpark Village.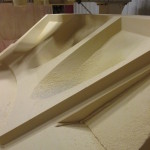 Ballpark Village photos by Jive Photo.